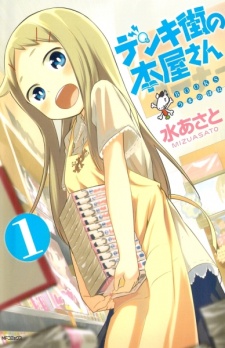 Denki-Gai no Honya-san (デンキ街の本屋さん) is a manga series written and illustrated by Asato Mizu in July 2011 and published in the magazine Comic Flapper.
Umio is a shy kid who just started his part time job at a manga store smack dab in the middle of the city. But his lifestyle isn't as glamorous as the neon lights that illuminate the city. Umio's closest friends are his co-workers who are all unique characters, to say the least, and although they're nice people, they have their quirks. They are a tight knit group of friends, have nicknames for each other and spend their weekends inside, sheltered from the extravagant scene happening on the outside.
Main article: List of Denki-Gai no Honya-san Volumes
Published in the magazine Comic Flapper by Media Factory from July 2011, until may, 2014 7 volumes have been published.
Main article: Anime
An anime television series adaptation produced by Shin-Ei Animation will start airing in October 2014.
Drama CD
Edit
Main article: Drama CD
A drama CD titled Denki-Gai no Honya-san Drama CD: Umanohone no Hitobito (デンキ街の本屋さんドラマCD~うまのほねの人々~), produced by Hobirecords, was released on August 5, 2013 and was limited to being sold in Comic Toranoana stores. The script was written by Asato Mizu and Chabō Higurashi.