FEATURED ARTICLE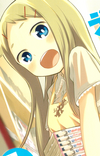 Hiotan (ひおたん) is a female employee of the Uma no Hone Bookstore.
As the second newest employee, she does not have a descriptive nickname like the others. Hio, while dedicated, is a clumsy worker who frequently gets into trouble. She is easily embarrassed, and is the frequent target of Director's teasing.
She has long light brown hair. She lives alone in a run-down apartment.
<<Read more...>>
Community content is available under
CC-BY-SA
unless otherwise noted.